We have been testing the new, low cost MV-SC2016PC-15S-WBN smart camera from HIK Robot.
FEATURES
The camera features the following out of the box:
Integrated onboard computing capabilities
Fully integrated LED light source
VisionSensor Application Software
17 pin cable for power, trigger and general IO
The Vision Sensor software is capable of implementing basic Machine vision tools and techniques without the use of programming. The camera is very easily configurable and supports a variety of IO options.
A basic test using template matching to identify the rotation of a tray was set up using the camera. The Camera subsequently transmits this rotation data via a TCP client.
SETUP
To connect to the Camera, download and install the HikVision MVS software to scan your local network for HIK Cameras. The camera should appear underneath the Ethernet tab with its full product name. This is also visible on the back of the camera.
Click on the camera once and a device information tab will appear beneath the selection area. This will display the IP address of the camera in the network. Enter this IP address into your browser to connect to the camera.
The default login is to select the Admin checkbox and enter 'Abc1234' as the password.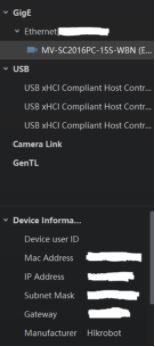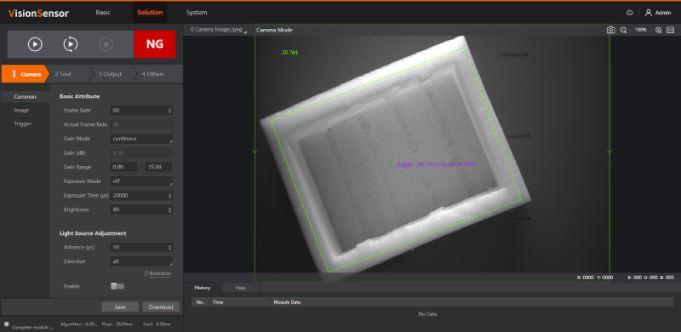 The Picture above shows the interface after logging into the camera software. The main picture shows a template matching the trays rotation. To create a basic template navigate to the solution section on the top bar, then to the tool section of the middle bar.
Select the match trait (double click) and then click on the template tab. Create a new template. Using the area bounding tools in the top left of the pop up window, define the area of your template, then select okay.
After the rotation is identified, it must be formatted for transmission. In this example only a single template tool is shown for demonstrating a specific use case.

Add another tool and select a format tool. Inside this tool, click the linking button and select the rotation variable.

Once the data is formatted, create a TCP client or IO data structure of your choice to transmit the rotation.
The image below shows the TCP configuration onboard for this example. Ensure if you are using an IP based solution you identify the correct IP you are sending the data to, a TCP server in this instance. Code for a basic Python TCP server is included below to listen for connections and accept rotation data.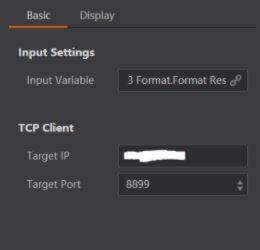 Stop the application from running onboard the camera. Ensure the TCP client is correctly configured. Start the Python TCP server. Start the application and this should trigger a connection and start receiving rotation data.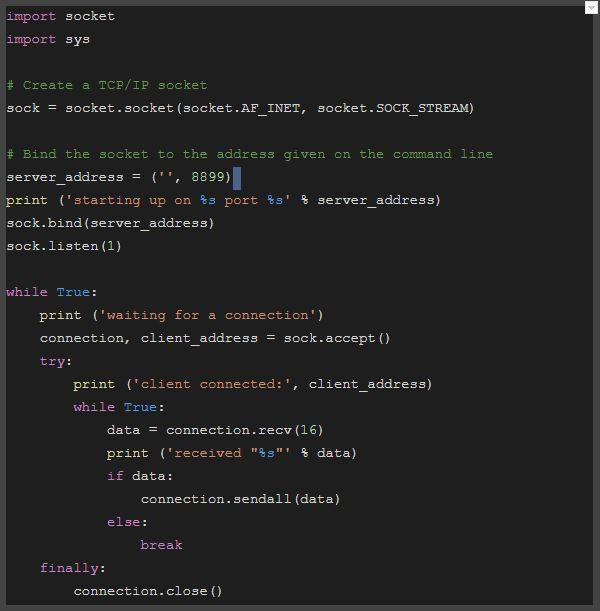 And that's it! Our overall impression is of a nicely put together smart camera with decent processing power. Our particular test which was just locating the tray in the image and outputting the angle via TCP/IP, was working at around 20 frames per second.