Background
Hanover Displays was formed in 1985 in south east England as a privately owned, independent designer and manufacturer of passenger information equipment for the public transport industry.
The company's product range has evolved to encompass the latest innovations in led display technology – both monochrome and multi-colour, audio-visual passenger information, automatic vehicle positioning, geolocalisation and fleet management. Now, with two fully equipped production facilities, in the United Kingdom and the United States, Hanover manufactures over 45,000 units per annum across the product range, shipping to customers in over 75 countries throughout the world.
The Problem
LED panels are tested at the end of production by quality control engineers using a test unit that illuminates LEDS with test patterns. The system relies on the individual who is doing the testing to observe the process from beginning to end and to detect when an LED has not illuminated. In low volume production, this system has worked fine for years, albeit without any guarantees that the test operator will be able to concentrate throughout the duration of the testing process.
In recent years, the business has grown to an extent that the manual testing has become a bottle neck to production. In addition, the possibility of letting through faulty components amplifies the problem as a failure rate of say .05% of 45,000 units equates to a return rate of 2,250 units.
The Solution
Hanover Displays worked with Scorpion Vision to develop a more automated and foolproof process to thoroughly test each board with a 100% inspection. This required a system that would recognise the board under test and to run the relevant test profile for that particular board. The remit also required an easy-to-use User Interface that would enable the addition of new products to the library of products under test.
Scorpion Vision devised a system that could be trained by the operator by simply placing a new, previously untrained LED panel under the vision system and pressing a single button. The vision system automatically locates the four LEDs at each corner and creates the new product specification. As soon as this is completed, the product profile is ready for testing. The whole new product training process takes just a few seconds.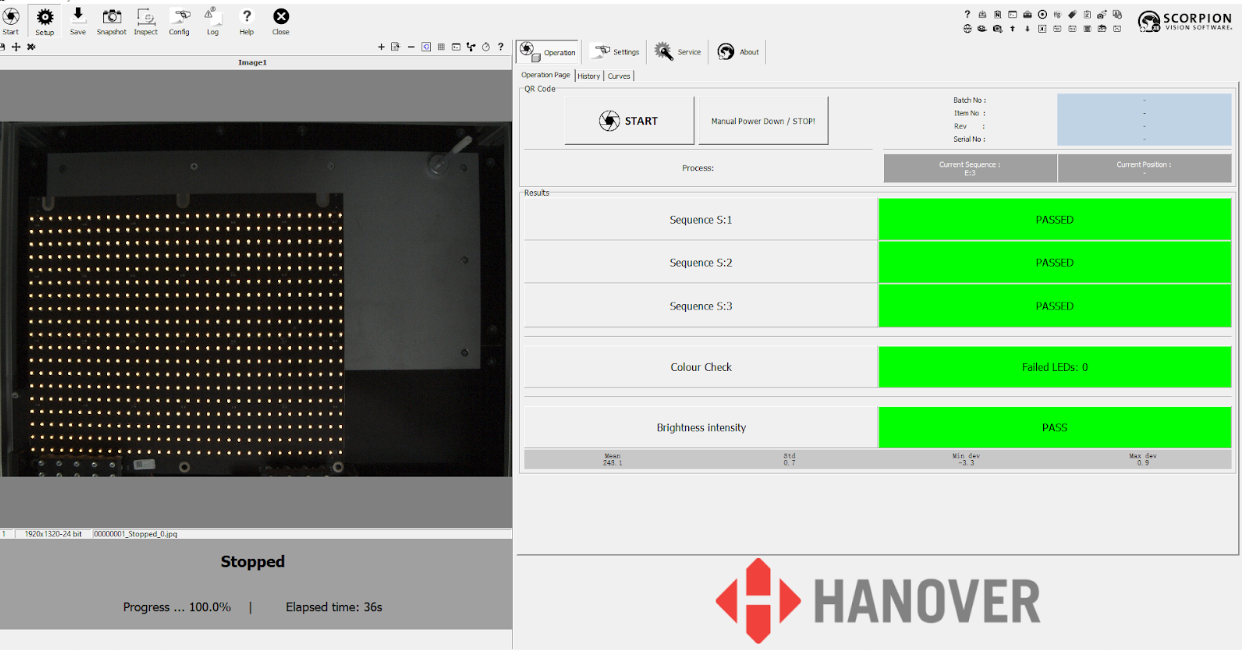 The Benefit
Overall, the system increases throughout of board production by as much as 67%.
Other benefits include:
The vision system logs all inspection data, so each test generates a log file for trace-ability purposes.
Setting up new products no longer requires new firmware to be programmed as was previously the case.
100% inspection
No susceptibility to human error.
Failures displayed with onscreen reporting and an entry into the log file.
Greatly reduced costs
A flexible platform future proof design